TCHS Administration
Elena Li, Principal
Elena is starting her 32 year at Temple City High School. For 25 of the years, she was an English teacher, working with students 9th-12th grades. The last 17 years she predominantly taught seniors and thoroughly enjoyed establishing relationships with and helping to prepare students for their next chapter in the post-secondary world. All four of her children went through and graduated from TCHS.
She has been an active member of the community heavily involved with PTA, School Site Council, Cub Scouts, Little League, and TCUSD. It is a privilege to serve our families here at TCHS and look forward to another exciting year. Go RAMS!!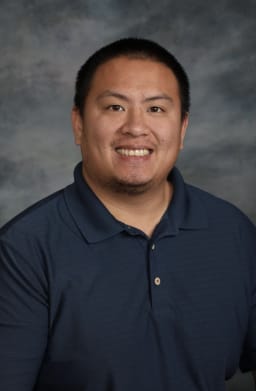 Anthony Chan
(Last Names A - H)
Mr. Anthony Chan is a proud graduate of Temple City High School. Upon graduating from TCHS, he earned his bachelor's degree in Mathematics as well as his single subject teaching credential from UC Irvine. He began teaching at South Pasadena High School in 2013. He served multiple roles while at South Pasadena, such as being a WASC Visiting Committee Member, a Junior Class Advisor, a football and track coach, a School Site Council Chairman, a Summer School Principal, and an Athletic Director. Chan also earned his Master's in Educational Leadership from Cal State Los Angeles in 2019. While at South Pasadena, he received two Honorary Service Awards from their PTSA in 2017 and 2023.
We are thrilled to have Mr. Chan back at Temple City High School, where he is excited to serve his alma mater. He credits his experiences at TCHS as to where his passion for service in education began. Chan believes that the high school experience is enhanced by opportunities both in and outside the classroom. In his free time, he likes to play basketball, cook, and travel.
His favorite saying is, "it takes a village."
Nate Slaymaker
(Last Names E, I-Q )
Nate is a graduate of Temple City High School and has worked at TCHS for over 14 years as an instructional aide, special education teacher, math teacher, counselor, and now as an administrator. He has a Masters of Education from Concordia University. He loves working with students to help them find their passions and their best fit on the TCHS Campus and in their future endeavors.
Jessica Goold
(Last Names R - Z)
Jessica Goold is proud to be starting her 30th year as an educator in TCUSD. As an alumni of TCUSD she graduated early from Temple City High School to attend Cal Poly, Pomona where she earned her bachelor's in social science, minor in English. She is currently working on her PhD in Urban Leadership at Claremont Graduate University. Jessica has experienced TCUSD as a student, a parent and is now excited to have the opportunity to serve as an assistant principal at TCHS.